Arrowhead Firing On All Cylinders With Latest Add-On
Engine Part Specialist C&E Joins Arrowhead Electrical Products Platform

The Riverside Company has added the C&E companies (C&E) to its Arrowhead Electrical Products (AEP) platform. Headquartered in Urbandale, Iowa C&E manufactures and distributes aftermarket and OEM engine components, primarily for the power sports industry. AEP is a Minnesota-based supplier of non-discretionary, mission-critical, aftermarket replacement parts for a wide variety of motorized vehicles.
C&E is comprised of C&L, a domestic operation with seven brands and Vertex, a piston manufacturer based in Cadelbosco di Sopra, Italy. The company is best known through its highly recognized industry product brands: Hot Rods, Pivot Works, Hot Cams, Cylinder Works, Bearing Connections, Wrench Rabbit, Fuel Star, and Vertex Pistons. C&E's main products are pistons, crankshafts, cam shafts, connecting rods, engine cylinders, fuel flow systems, and suspension componentry.
"AEP already offers tens of thousands of products, and C&E adds considerable new depth and expertise in internal engine components," said Riverside Partner Steve Dyke. "We anticipate strong growth for both companies thanks to cross-selling opportunities, R&D capabilities, and a broad slate of well-established brands."
Due to its diverse global customer base, AEP can speed C&E's entry into adjacent markets like agricultural, industrial, outdoor power equipment, and marine.
AEP will benefit from C&E's track record of developing and commercializing new products and brands known for quality and reliability.
This is the first add-on since Riverside invested in AEP in 2015, but the company has closed nine acquisitions since 2011. Riverside continues to seek acquisition opportunities for the company as it builds on its track record of more than 80 specialty distribution investments.
Working with Dyke on the deal were Principal Rob Langley, Senior Associate Laura Swearingen, Associate Sam Brinkley, Operating Partner Steve Stubitz, Operating Executive Hayden Cotterill and Group CFO Mike Skelton. Riverside Partner Anne Hayes helped secure financing for the deal.
Financing for the transaction was led by Ares Capital Corporation and Varagon Capital Partners, L.P. Jones Day and Deloitte advised Riverside on the investment.
Financial Advisory Partners LLC was C&E's investment banker for the transaction.
About The Riverside Company
The Riverside Company is a global private equity firm focused on acquiring and investing in growing businesses valued at up to $400 million. Since its founding in 1988, Riverside has invested in more than 420 transactions. The firm's international portfolio includes more than 80 companies.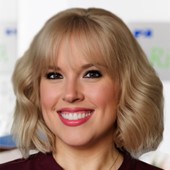 Holly Mueller
Consultant, Global Marketing and Communications
Cleveland
+1 216 535 2236