Riverside Add-On Puts Growth Into Motion
Acquisition is First Add-On for RMCF Portfolio Company
(January 9, 2008) – The Riverside Company continues a steady flow of activity with the purchase of add-on acquisition InMotion, a developer and distributor of high-tech machine automation systems. InMotion is the first add-on for AutomationSolutions ("Automation"), a platform company acquired by the Riverside Micro-Cap Fund ("RMCF") in June 2007.
Automation designs and distributes highly engineered automation solutions for original equipment manufacturers in the Northeastern United States. InMotion, headquartered in Greensboro, North Carolina and serving customers throughout the Mid-Atlantic United States, expands Automation's market presence and adds complementary services like specialized industrial cables and panel fabrication.
"As we developed the add-on strategy for AutomationSolutions, InMotion lined up well with our criteria," said Loren Schlachet, Riverside Managing Partner. "We look for strong financial performance, synergies in culture and philosophy, and a company that adds value through expanded markets, customers and services. The combined management team has the horsepower to propel this company to new heights. We are justifiably proud of this transaction."
"There's a special reason I'm excited about this integration," said Wayne Ferrari, Automation's Co-CEO. "I have known InMotion's President, Charles Williams, for nearly 20 years. I've admired his company and am eagerly anticipating having him on the team. Our Riverside partners have found an exceptional company with knowledge, skill, services and customers to join our team."
Working with Schlachet on the transaction were Joseph Lee, Riverside Vice President and Kenny Shum, Riverside Analyst. RMCF provided the equity for the acquisition.
The Riverside Company
The Riverside Company is the largest private equity firm focused on the smaller end of the middle market ("SEMM") and is one of the industry's most experienced leveraged buyout investors. Riverside specializes in investing in premier SEMM companies (those with enterprise values of less than $150 million) and partners with strong management teams to build companies through acquisitions and value-added growth. Since 1988, the firm has invested in 176 transactions with a total enterprise value of $3.4 billion. Its current portfolio in the U.S. and Europe numbers 61, with combined annual sales of $3 billion, EBITDA of $450 million and more than 11,000 employees. Riverside offers the resources to complete acquisitions smoothly and in as little as 30 days - thanks to its sizeable pool of capital under management (nearly $2 billion in nine funds), over 150 professionals in 17 offices (New York, Cleveland, Dallas, San Francisco, Atlanta, Chicago, Los Angeles, Budapest, Munich, Prague, Warsaw, Amsterdam, Brussels, Madrid, Tokyo, Stockholm and Seoul), and longstanding relationships with partner lenders. Six of seven of the firm's mature vintages currently produce top quartile returns for investors, which are among the world's leading pension funds, endowments, funds-of-funds, insurance companies and banks. Please visit www.riversidecompany.com and www.riversideeurope.com for more information.
AutomationSolutions
AutomationSolutions helps its clients design and develop electro-mechanical motion control and machine automation solutions. The company works with customers to identify, select, procure, apply and proof the high technology components used to automate machinery. While motion control is their heritage, AutomationSolutions markets and applies many other major elements of the machine automation solution. These include intelligent sensors, programmable machine controllers, industrial computers, vision systems, mechanical components, human machine interfaces, safety equipment and related services. Learn more about AutomationSolutions by visiting www.as-automation.com.
Integrated Motion
Integrated Motion is a developer and distributor of high-tech automation components for machine-control systems. Headquartered in Greensboro, North Carolina, InMotion serves over 400 customers in Maryland, Virginia, North Carolina and South Carolina. Learn more about InMotion at http://www.i-automation.com/.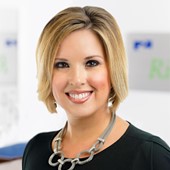 Holly Mueller
Consultant, Global Marketing and Communications
Cleveland
+1 216 535 2236