Riverside Adds Jackson Safety® and Wilson® Safety Brands to SureWerx
Acquires Long-Standing Market Leader in Industrial Personal Protective Equipment and Welding Safety Products
SureWerx, a portfolio company of The Riverside Company and leading supplier of professional tools, equipment, and safety products, has acquired the Jackson Safety and Wilson Safety brands from Kimberly-Clark Professional, a leading global supplier of workplace products and solutions. The acquired brands represent leading Industrial Personal Protective Equipment and Industrial Welding Safety products that are distributed to a global base of customers across diversified end markets.
As part of the acquisition, SureWerx will be acquiring a broad suite of products that includes Welding Helmets, Welding Accessories, Welding Powered Air Purifying Respirators (PAPR), Welding Barriers, Industrial Respiratory, Face Protection, Head Protection, and Hearing Protection categories.
The sale is part of Kimberly-Clark Professional's ongoing effort to streamline its global safety and scientific businesses and accelerate growth across its Personal Protection Equipment (PPE) categories including apparel, gloves, and eyewear, and is consistent with the goals of the company's Global Restructuring Program announced in January 2018.
"We're excited about the many benefits this transaction offers both SureWerx and Jackson customers," said Riverside Managing Partner Suzy Kriscunas. "These brands have a long history of quality and durability and are well-recognized around the world."
Jackson marks SureWerx's first acquisition since Riverside acquired the platform in November 2018. Riverside is actively supporting SureWerx's efforts to add complementary new products and deliver best-in-class service to its established network of loyal distributors and end-users.
"Riverside and SureWerx management are delighted to take another step forward in our goal to become a global leader in worker safety and productivity," said Riverside Partner Brad Roberts.
Working with Kriscunas and Roberts on the deal were Operating Partner Eric Nowlin, Vice President Constantine Elefter, Senior Associate Linda Xu, Senior Associate John Ribble and Associate Tom Wyza. Partner Anne Hayes secured financing for the transaction.
Golub Capital provided debt financing for the deal. Osler and Deloitte supported the transaction as the legal counsel and accounting advisor, respectively.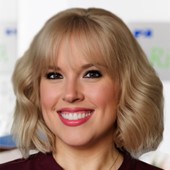 Holly Mueller
Consultant, Global Marketing and Communications
Cleveland
+1 216 535 2236