Riverside Deposits Another Deal In The Bank
Firm Invests In Kasasa By BancVue

The Riverside Company has invested in Kasasa by BancVue, an Award-winning financial technology and marketing services provider based in Austin, Texas that serves over 700 community banks and credit unions across the United States.
Kasasa is among the world's largest financial technology providers and was recently included on the American Banker 2015 FinTech Forward 100 list of leading financial technology providers. Kasasa's flagship product is a suite of reward checking accounts that feature nationwide ATM fee refunds, monthly cash rewards and require no minimum balance and no monthly service fees. They include Kasasa Cash, Kasasa Cash Back, Kasasa Tunes and Kasasa Saver.
"Kasasa delivers huge value to customers," said Riverside Managing Partner Loren Schlachet. "It is very difficult to design, manage and effectively market these products and Kasasa provides a turnkey solution that helps banks win new deposits and deepen customer relationships."
Both the company's financial institution customers and end consumers benefit from Kasasa products. The financial institution is able to attract high-quality deposits more efficiently while the end consumer gets world-class financial products from their preferred financial institution.
"Kasasa is a well-known and respected national brand that helps small and mid-sized financial institutions successfully compete with larger rivals," said Riverside Partner Alan Peyrat. "Kasasa also provides full support, freeing up the financial institution to focus on other ways to run and grow its business."
Riverside is excited about working with the outstanding Kasasa management team to accelerate growth through increased investments in the brand and new product development.
"When we first started, we were a small company with an audacious dream: to bring community financial institutions together with the goal of taking major market share away from the megabanks," said Kasasa CEO Gabe Krajicek. "This vision has been incredibly powerful and we have seen it validated by the growth of our clients, our brand, and now by this partnership with a premier global private equity firm."
Working with Schlachet and Peyrat on the deal for Riverside were Vice President Steve Rice, Associate Tony Trevino, Associate Christopher Shea, Operating Partner John Kish, Vice President Dan Haynes, and Finance Director Christopher Lake. Origination Principal Jeremy Holland sourced the deal for Riverside.
Jones Day provided legal counsel, Deloitte served as a financial advisor and West Monroe was the technology advisor for Riverside on the transaction.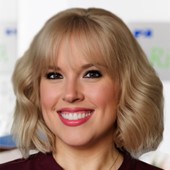 Holly Mueller
Consultant, Global Marketing and Communications
Cleveland
+1 216 535 2236