Riverside Exits YourMembership
Firm Sells Stake in SaaS-Based Membership Management Software Provider

The Riverside Company has sold YourMembership following a five-year hold period that saw considerable growth across all aspects of the business. Based in St. Petersburg, Florida, YourMembership offers a very strong end-to-end member engagement platform for member-based organizations, such as associations, non-profits, chambers, and corporate groups.
YourMembership's SaaS suite includes membership management software, learning management software, online career centers, websites, event management, and online social communities. YourMembership's software helps its clients attract more members, reduce costs, increase revenue, and save time.
YourMembership's growth during Riverside's ownership was highlighted by exponential growth in both sales and EBITDA, driven in part by three strategic add-on acquisitions, which enhanced the company's product capabilities, expanded its customer base, and strengthened its management team. YourMembership's revenues and EBITDA increased roughly eight-fold and seven-fold, respectively, since 2011.
"Coupled with excellent organic growth, the integration of three key add-ons helped transform YourMembership during the Riverside hold period," said Riverside Managing Partner Loren Schlachet. "Working with an oustanding management team at YourMembership helped us rapidly scale the business. They were true innovators in their industry."
Riverside Partner Joe Manning said that investments in product development, sales and marketing, and geographic expansion helped drive rapid growth.
"When we invested in YourMembership in January 2012, it was a single product company with a relevatively small base of employees and revenue, a single office location, and a limited product development team," said Manning. "Fast forward five years, and YourMembership has been transformed into a multi-product company with over 300 employees, six offices including offices in Europe and Asia, a global base of over 4,000 customers, and a market leadership position that will enable the company to continue its rapid growth trajectory."
Working with Schlachet and Manning on the deal for Riverside were Operating Partner John Kish, Finance Director Lynda Barr and Associate Rahul Mohan.
Harris Williams advised Riverside on the exit.
Riverside Origination Principal Amy Margolis helped facilitate the sale.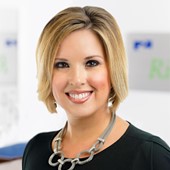 Holly Mueller
Consultant, Global Marketing and Communications
Cleveland
+1 216 535 2236