Riverside Makes Colorful Addition to Fisher Unitech
Prism Engineering Joins 3D Printing and Design Specialist

The Riverside Company has added Prism Engineering (Prism) to its Fisher Unitech (Fisher) platform. Based in the Greater Philadelphia Metro Area, Prism is a value-added reseller of computer aided design (CAD) software, computer aided manufacturing (CAM) software and 3D printers serving the Mid-Atlantic region. Prism backs its offerings with consulting and other services.
Fisher is a value-added reseller of CAD software and 3D printing hardware and related products and services. Fisher is based in Troy, Michigan and has 13 regional offices supporting sales across the Midwest and Northeast regions.
"This combination makes for an even stronger and more capable company in Fisher with a broader product offering and geographic footprint," said Riverside Senior Operating Partner Mike Michienzi. "The acquisition brings Fisher's strong team and capabilities to Prism customers while adding CAM software to Fisher's product offerings. The combined company will meet more needs for more customers in a wider geographic area. We look forward to accelerated growth."
Prism's strong Mid-Atlantic presence makes a solid footprint of coverage between Fisher's existing broad Midwest and Northeast presence. As a reseller of Mastercam CAM software, Prism delivers a new set of products and value-added capabilities. Mastercam integrates with CAD software like SolidWorks (offered by Fisher and Prism) to create the machining steps needed to create the final product on a Computer Numerical Control (CNC) machine. Prism also has some unique training and consulting offerings that will bolster Fisher's extensive value-added services.
"Combining Prism's new offerings with Fisher's proven track record of value-added reselling and training expertise makes for a compelling value for customers," said Matt Wise, CEO of Fisher. "Fisher is also a global leader in sales of Stratasys 3D printers, which strengthens Prism's existing offerings."
Fisher's business has grown alongside the increased demand for 3D modeling and additive manufacturing, which are used for many design, prototype and manufacturing needs across a diverse set of industries such as aerospace, consumer goods, automobiles, and defense.
Working with Michienzi on the transaction for Riverside were Partner Steve Dyke, Principal Rob Langley, Senior Associate Caroline Shettle and Operating Executive Tom Snyder. Origination Principal Jim Butterfield sourced the opportunity and Partner Anne Hayes worked on financing the transaction for the firm.
Jones Day (legal) advised Riverside on the transaction. Maranon provided financing for the transaction.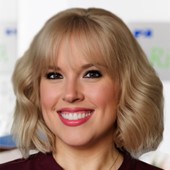 Holly Mueller
Consultant, Global Marketing and Communications
Cleveland
+1 216 535 2236