Riverside Marks Towering Achievement
Terminal Tower Gets Riverside Flair to Celebrate Firm's Anniversary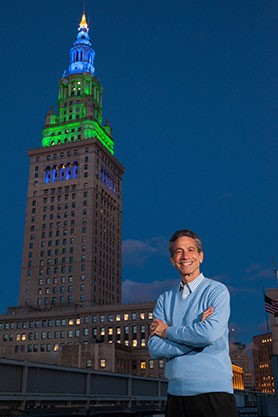 As part of its 25th anniversary festivities, global private equity firm The Riverside Company is lighting Terminal Tower, its Cleveland home and largest international office, in its trademark blue and green colors January 29-31.
Riverside has occupied the Terminal Tower since 1996, when Co-CEO Stewart Kohl was joined by just two others in a small office. Those early days stand in contrast to the two full floors and more than 50 employees that constitute today's Riverside Cleveland presence.
The firm's anniversary coincides with a recent expansion involving the renovation of two floors of the Terminal Tower. Coupled with a 10-year lease extension, the project added 25% more office space, modernized floor plans and provided room for Riverside to continue growing.
"Forest City has been wonderful to work with for all of these years," said Kohl. "I know the whole Tower City complex has been a labor of love for Forest City and the Ratner family. I adore the history and beauty of Terminal Tower, and as an RTA patron I am a huge fan of the convenient location. We're thrilled with how the project turned out, and our employees love the new space."
From its beginnings as a one-man operation founded by Co-CEO Béla Szigethy, Riverside has grown to include 220 employees working in offices throughout North America, Europe and the Asia-Pacific region. The firm completed 22 acquisitions and exited 11 investments in 2013, and was recently recognized as the firm of the year by the Cleveland chapter of the Association for Corporate Growth.
"Tradition may suggest that we should celebrate the first 25 years with silver," said Kohl. "But we couldn't be more excited about celebrating with our colors on our stunning landmark home."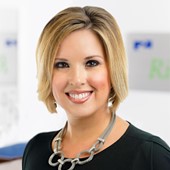 Holly Mueller
Consultant, Global Marketing and Communications
Cleveland
+1 216 535 2236