Riverside Promotes Tsang To Partner
The Riverside Company has promoted Peter Tsang to Partner. Mr. Tsang works out of the global private equity firm's San Francisco office.
Since joining Riverside in 2004, Mr. Tsang has built a long track record of success, helping lead teams on more than a dozen platform acquisitions, more than 20 add-ons, and several outstanding exits. He currently sits on the boards of four Riverside portfolio companies.
Mr. Tsang focuses principally on Riverside's Education & Training specialization, where he serves as Industry Sector Head. In his role, he leads the firm's efforts in the sector and plays an active role in every step of the deal process. He uses his expertise to optimize the origination process, then actively works to add value to the due diligence process. This support continues to help drive growth at Education & Training companies across Riverside's portfolio after investment.
"It's hard to quantify all that Peter does for Riverside," said Riverside Managing Partner Suzy Kriscunas. "He has exceptional investing instincts, and we've benefitted greatly from his incredible enthusiasm and deep insight into the education & training space."
Before coming to Riverside, Mr. Tsang gained experience with several investment companies in addition to serving as an investment banking analyst at Houlihan Lokey Howard & Zukin and as a staff auditor at Ernst & Young.
Mr. Tsang earned a BA in accounting and finance from the University of Wisconsin-Madison and an MBA from the University of Chicago.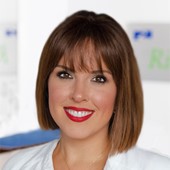 Holly Mueller
Consultant, Global Marketing and Communications
Cleveland
+1 216 535 2236