Riverside's Latest Exit Not in Vein
Firm Agrees To Exit Hematology Expert Diatron Group

The Riverside Company has signed an agreement to sell Diatron Group (Diatron) to STRATEC Biomedical AG of Germany. Budapest-based Diatron develops, manufactures, and markets compact hematology analyzers for the human medical and veterinary markets. The transaction is expected to close near the end of this month.
Riverside invested in Diatron in late 2005, and worked extensively to grow the company organically, through new product development, and via international expansion. Riverside also completed the add-on of MetroLab in 2008, delivering new products, capabilities and customers.
"We're proud of the work we've done to help Diatron thrive during our ownership," said Riverside Partner, Michael Weber. "Riverside supported Diatron to become a true global leader by adding clinical chemistry and reagents to its product offering, opening a U.S. subsidiary and receiving key FDA approval for several product groups, and earning a strong customer base."
Today Diatron serves customers in more than 100 countries via blue chip OEM partners such as Abaxis, Samsung and Siemens as well as longstanding branded distributor relationships.
"Diatron was a good, specialized company that we helped to become bigger, more global and more capable," said Riverside Senior Operating Partner Fabio Pesiri. "During our hold, Diatron centralized production into a cutting edge facility that incorporated lean processes and the latest technology. These, and other operational efforts, helped Diatron more than triple its turnover since Riverside's acquisition."
Working with Weber and Pesiri on the transaction for Riverside were Vice President Matthias Fink, Senior Associate Simon Joha and Senior Legal Counsel, M&A and Tax Peter Parmentier. Balázs Tahy, strategic advisor, played a key role in the exit process.
Lincoln International AG (M&A), Allen & Overy (Legal) and E&Y (Financial) advised Riverside on the transaction.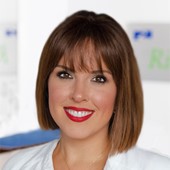 Holly Mueller
Consultant, Global Marketing and Communications
Cleveland
+1 216 535 2236