Riverside Sees Opportunity, Adds To IDOC
PRIMA Eye Group Joins Riverside's IDOC Platform

The Riverside Company has added PRIMA Eye Group to its Independent Doctors of Optometric Care (IDOC) platform. PRIMA provides consulting services and purchasing programs to independent optometrists in the U.S.
Based in Atlanta, PRIMA serves nearly 400 practices representing almost 900 optometrists. PRIMA is a consulting firm and alliance devoted to helping independent optometrists through every stage of their optometric business, providing one-on-one consulting from a team of experts in marketing, human resources and practice financial analysis to help grow practice revenue.
With the acquisition, IDOC remains the largest privately held alliance of independent optometrists in the U.S., with approximately 3,100 members. IDOC boasts more than 60 partner vendors and provides group purchasing services, marketing, and continuing-education offerings to its members.
"PRIMA is a fantastic company, and customers of both companies will see immediate benefits in the form of broader and more effective service offerings," said Riverside Managing Partner Loren Schlachet. "The IDOC platform can now deliver a wider array of programs, in-depth consulting services, and new purchasing programs."
Current members of both IDOC and PRIMA will receive information about the many new opportunities to help their practices thrive based on this investment.
Working with Schlachet on the transaction for Riverside were Partner Alan Peyrat, Vice President John McKernan, Associate Christopher Shea, Operating Partner and Senior Healthcare Advisor Keith Kerman, Principal Dan Haynes, and Finance Director Ross Fuller.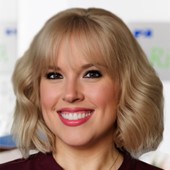 Holly Mueller
Consultant, Global Marketing and Communications
Cleveland
+1 216 535 2236