Riverside Sells Work Health Group
Firm Helped Grow Australian Rehab Specialist Into National Leader

The Riverside Company has sold its portfolio company Work Health Group. Based in Melbourne, Australia, Work Health Group provides occupational rehabilitation case management services, employment services and disability support across Australia.
Riverside invested in what was then IPAR in 2015, expanding the company with the add-on acquisition of WorkFocus Group in 2016 and rebranding the larger and more capable company Work Health Group.
Work Heath Group now includes five respected brands delivering exceptional service through more than 80 locations in Australia. Work Health Group helps get injured workers back to work while optimising work and life participation for people with injury, illness, disability and disadvantage.
"Thanks to its outstanding service and proven results, Work Health Group has grown steadily during our hold," said Riverside Managing Partner Simon Feiglin. "Working with a great management team at Work Health Group, we have helped them claim more market share and expand into adjacent markets, and ultimately help more people get well and return to work."
A key element to Riverside's strategy was the sourcing and integration of the WorkFocus Group add-on, which brought on a national occupational rehabilitation expert with a strong client base and talented staff. Overall, Work Health Group increased revenues by more than 220% and EBITDA by more than 250% during the hold.
"Riverside's deep experience in healthcare, where we've made more than 100 investments, helped us understand the challenges and opportunities Work Health Group was facing," said Riverside Partner Nick Speer. "It's a stong outcome, and the company is poised for even more success."
Working with Feiglin and Speer on the transaction for Riverside were Managing Partner Stu Baxter and Senior Associate Kevin Xu.
Deloitte Corporate Finance and Herbert Smith Freehills advised Work Health Group on the transaction, and Westpac provided debt finance to the business through Riverside's investment period.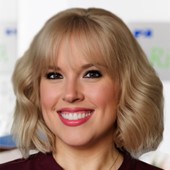 Holly Mueller
Consultant, Global Marketing and Communications
Cleveland
+1 216 535 2236