Riverside Sinks Its Teeth Into New Platform
Firm Takes Minority Stake In Dental Services Provider
The Riverside Company has made a minority investment in North American Dental Group (NADG), a provider of comprehensive dental services with 70 clinics in Indiana, Michigan, Ohio and Pennsylvania. ABRY Partners is the majority investor in the transaction.
Driven by its unsurpassed service and care delivered to patients and comprehensive practice support provided to dentists, NADG has grown rapidly since its establishment in the Youngstown, Ohio area in 2010.
"NADG is an exemplary dental service organization that has made a true commitment to quality of care," said Riverside Partner Hal Greenberg. "The dental practice management industry continues to grow rapidly as both dentists and patients see the inherent value and convenience of the model, and we are excited to partner with a true leader in the space."
Riverside plans to work with ABRY and NADG's strong management team to help the company continue to grow, particularly through strategic acquisitions of additional dental practices. Other growth opportunities at NADG include de novo clinic launches and service expansions at existing locations.
"We are excited to partner with Riverside in this investment," said ABRY Partner John Hunt. "We have had a great, longstanding relationship with the Riverside team that made this investment and view them as a value-added partner."
Working with Greenberg on the deal for Riverside were Principal Jeffrey Gordon and Vice President Jay Reynolds.
Riverside was advised by Jones Day.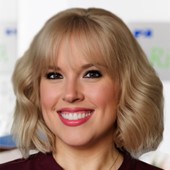 Holly Mueller
Consultant, Global Marketing and Communications
Cleveland
+1 216 535 2236