Riverside Syncs Connection with Time-ly Investment
Firm Invests in Connectivity and IoT Leader Abracon

The Riverside Company has acquired a majority stake in Abracon, a Texas-based global provider of passive and electromechanical timing, synchronization, power, connectivity and radio frequency (RF) solutions from Evergreen Pacific Partners, a private equity fund. Focused on customer service, support, innovation, quality and on-time delivery, Abracon supports over 25,000 active customers and ships over a quarter of a billion components each year critical in support for Internet of Things (IoT) applications.
Abracon's components are vital to electronic circuits and are proliferating in a wide variety of applications as devices get smaller and more connected, particularly as it relates to growth in autonomous vehicles, cloud services, data centers and 5G.
"We are excited to partner with Abracon's management team to accelerate this company's growth," said Riverside Managing Partner Suzy Kriscunas. "Its innovative offerings, impressive performance and market tailwinds make this an incredible opportunity for growth as we help expand Abracon's capabilities into other products and markets."
This new investment is just one more example of how Riverside offers extensive experience within its Specialty Manufacturing & Distribution industry specialization.
"Abracon is already highly diversified with its product offering and geographic footprint," said Riverside Partner Tim Gosline. "However, we look forward to further expanding product categories where the organization may have a limited offering today. Additionally, we believe there will be strategic add-on opportunities in this fragmented market."
Working on this deal with Kriscunas and Gosline were Vice President Jason Fulton, Senior Associate John Ribble, Associate Alex Huron and Operating Partner Tom Anderson. Origination Director Cheryl Strom sourced the deal for Riverside and Partner Anne Hayes helped secure financing. Operating Partner and Managing Director Brian Bunker helped provide due diligence on the transaction.
Antares Capital and Bain Capital provided financing for the deal. Jones Day and KPMG supported the transaction as the legal counsel and accounting advisor, respectively.
Evergreen Pacific Partners
Evergreen Pacific Partners, $700 million of assets under management, invests in traditional buyouts, management led buyouts, and growth equity investments involving traditional middle-market companies in the Western U.S. and Canada.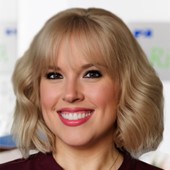 Holly Mueller
Consultant, Global Marketing and Communications
Cleveland
+1 216 535 2236