Riverside Wraps Up Another Investment
Firm Invests in Medical Garment Specialist Marena

The Riverside Company has invested in The Marena Group (Marena), a manufacturer of medical-grade compression garments, shapewear, and activewear sold to plastic surgery centers, hospitals, medical providers, patients, and consumers. Marena is based in Lawrenceville, Georgia.
Marena's compression garments are used by plastic surgery patients for post-surgical applications, and by consumers for shapewear to enhance comfort, support, and appearance. Marena uses a patented fabric that enhances comfort and durability, and studies have revealed performance advantages and higher customer satisfaction and compliance with Marena's products. The company's customer base includes thousands of medical providers and individual consumers in the U.S., as well as over 50 international distributors selling into nearly 80 countries.
"Marena delivers an enormously valuable line of products that provide significant benefits to medical providers and patients," said Riverside Managing Partner Loren Schlachet. "They are poised for growth both internationally and domestically, and we are eager to partner with them as they reach even more customers."
Riverside intends to work with Marena's existing management to expand the company through increased sales and marketing, international growth, widening its customer base, new product development, and entering new markets. Marena's existing management team will continue leading the company and CEO Vera Watkins will remain in place.
"Riverside is a global firm with considerable knowledge of the medical products and garments industry," said Riverside Principal Joe Manning. "We are confident that our global team can help spread Marena's reach and build on its product and service leadership in the market. We are thrilled to be partnering with Vera and the talented Marena team."
Riverside has deep experience in healthcare, having made more than 80 investments in the sector. The firm has successfully invested in numerous medical product companies, including medical brace and support specialists FLA Orthopedics and Orliman (Spain).
Working with Schlachet and Manning on the deal for Riverside were Senior Operating Partner Dave Tiley, Finance Director Ross Fuller, Associate Jason Thorn and Vice President Dan Haynes. Principal, Origination Jim Butterfield and Principal, Origination Jeremy Holland sourced the deal for Riverside.
Financing for the transaction was provided by Madison Capital. Jones Day advised Riverside on the investment.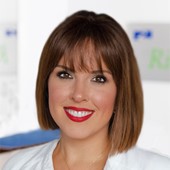 Holly Mueller
Consultant, Global Marketing and Communications
Cleveland
+1 216 535 2236