Sale of Swimwear Company Suits Riverside Nicely
Firm Exits Competitive Waterwear Brand Arena
The Riverside Company has sold its stake in Italian competitive swimwear company Arena. Arena is an internationally known aquatic sports and competitive waterwear company that outfits both famous Olympians and recreational swimmers.
Riverside acquired Tolentino, Italy-based Arena in 2010 and immediately sought to develop its presence in international markets. During Riverside's hold period, the firm helped Arena increase its sales and EBITDA and deepen its presence in international markets. These efforts were most apparent in the U.S. market, where Arena gained sponsorship of the U.S. Swimming Federation while expanding its sales. Additionally, Riverside's Asian Sourcing Office, led by Operating Partner and Managing Director Brian Bunker, helped Arena improve its sourcing in the Far East.
Traditionally a brick-and-mortar retail oriented company, Arena used Riverside's help to develop its online presence. Arena built an e-commerce platform that enhanced Arena's image and drove online sales.
While developing sales, improving operations and increasing its internet sales, Riverside also ensured that Arena continued to be incredibly innovative. Arena has developed a number of new fabrics, suits and swim accessories to position itself as a global leader in technical swimwear. At the last FINA World Championships in Barcelona, athletes wearing Arena outperformed competing brands.
Riverside Senior Operating Partner Fabio Pesiri said the successful partnership with Arena was the result of shared goals.
"It's been wonderful to work with Arena CEO Cristiano Portas," said Pesiri. "His team formed a true partnership with Riverside, and we worked closely together to make a bigger and better company that is poised for even more success."
Riverside Principal Dr. Michael Weber is confident that Arena will continue to thrive.
"Arena was a great company upon our initial investment," said Weber. "But we were able to work with a great management team to harness its potential. Arena today is a better known brand making even better products for an even broader array of customers across the world."
Riverside Vice President Sven-Hendrik Schulze worked with Pesiri and Weber on the transaction.
Allen and Overy, Lincoln International and KPMG advised Riverside on the sale of Arena to Capvis, the Swiss-based private equity firm.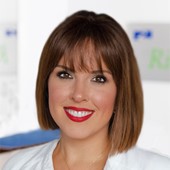 Holly Mueller
Consultant, Global Marketing and Communications
Cleveland
+1 216 535 2236