Arrowhead Gets Powered Up For Another Add-On
Outdoor Power Equipment Provider Stens to Join Arrowhead Electrical Products

Arrowhead Electrical Products, a portfolio company of The Riverside Company and co-investor Investcorp, has reached a definitive agreement to acquire Stens from Ariens Company. The transaction, which includes the acquisition of both the Stens and JThomas brands, is expected to close by year-end.
Stens, based in Jasper, Indiana, distributes aftermarket replacement parts to the outdoor power equipment, golf, and industrial end markets. Its offerings include non-discretionary, high-wear parts, including engine components, blades, chains, belts, and electrical components for use in mowers, chainsaws, snow blowers, trimmers, and other applications. The company keeps more than 14,000 parts in stock and serves more than 50,000 customers via its eight national distribution centers.
"Stens is a highly complementary addition for Arrowhead," said Riverside Principal Brad Roberts. "It delivers the platform a leadership position in the attractive outdoor power equipment aftermarket, while diversifying and expanding Arrowhead's capabilities."
Customers of both companies will benefit from the combination, as Stens and Arrowhead share a common culture, goals, and a commitment to customer satisfaction. Together, they can offer more products and services to a larger combined customer base.
Riverside Operating Partner Steve Stubitz anticipates increased growth opportunities for both companies.
"Stens' large and sophisticated field salesforce will help Arrowhead reach more customers and prospects, while Arrowhead's ongoing investments in new product development will help boost sales across the platform," Stubitz said.
This is the second add-on since Riverside invested in Arrowhead in 2015. Riverside continues to seek acquisition opportunities for the company as it builds on its track record of more than 80 specialty distribution investments.
Working with Roberts and Stubitz on the deal for Riverside were Vice President Drew Flanigan, Senior Associate Laura Swearingen and Associate Mark Barron. Riverside Partner Anne Hayes helped secure financing for the deal.
Jones Day is advising Riverside on the transaction.
The Riverside Company
The Riverside Company is a global private equity firm focused on making control and non-control investments in growing businesses valued at up to $400 million. Since its founding in 1988, Riverside has invested in more than 450 transactions. The firm's international portfolio includes more than 80 companies.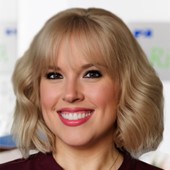 Holly Mueller
Consultant, Global Marketing and Communications
Cleveland
+1 216 535 2236