Riverside's Latest Investment Takes the 'Guest' Work out of Point of Sale Software
The Riverside Company, a global private investor focused on the smaller end of the middle market, has invested in Newbridge Software, Ltd. (Newbridge), a cloud-native electronic point of sale (ePOS) software company, that provides their offering to bars, restaurants and the wider hospitality industry. The investment is an add-on to its Guestline platform, a leading European hotel software platform. Newbridge will continue to operate as a separate division within the Guestline Group.
Newbridge helps stand-alone and group operators, including hotels, manage all aspects of their bars and restaurants across the United Kingdom. Established in 2016, its stock and staff management modules deliver real-time revenue and profit reporting, which, when combined with their table ordering, loyalty and promotions functionality, enables hospitality operators to manage their restaurant and bar operations more efficiently and profitably.
"We are thrilled to partner with the Newbridge team to further strengthen our Guestline software platform," said Riverside Partner Martin Scott. "The acquisition enhances Guestline's capabilities that already provide property management systems, distribution, guest experience and payments solutions to hotels across Europe and Asia."
Newbridge is another example of Riverside's expertise in investing in and growing tech-enabled business services companies. Riverside has invested in more than 220 Software & IT companies since its inception in 1988.
"During our partnership, we plan to introduce Newbridge's leading solution to our Guestline customer base, continue to ensure a best-in-class, cloud-native suite of services to our hoteliers and allow them to focus on looking after guests - rather than struggling with technology," said Riverside Principal, Origination, Tommy Seddon.
Working with Scott and Seddon on the investment for Riverside were Vice President Nándor Hajdu and Operating Partner Philip Rowland.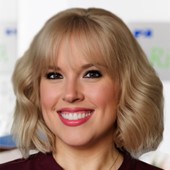 Holly Mueller
Consultant, Global Marketing and Communications
Cleveland
+1 216 535 2236