Riverside Appoints Chief Sustainability Officer
The Riverside Company, a global private investor focused on the smaller end of the middle market, has appointed Dörte Höppner to the newly formed role of Chief Sustainability Officer. She will oversee and drive forward ESG initiatives across Riverside globally. Dörte, who joined Riverside in 2017, will continue to be based in Europe and report directly to The Riverside Company Co-CEOs, Stewart Kohl and Béla Szigethy.
"Creating this role is a very logical step for us, and Dörte is the perfect person to fulfill this," said Riverside Co-CEO Béla Szigethy. "She has spearheaded the group's ESG initiatives for some time now and is recognized within the wider private equity community for her deep understanding of and involvement in ESG and all of its dimensions. This appointment reflects the wonderful job she has done championing ESG in Europe."
In her new role, Dörte will take on responsibility for identifying ESG initiatives and harmonizing the integration of these within Riverside's various fund families, working closely with the Managing Partner of each Fund to facilitate adoption.
"Diversity and inclusion, committed environmental stewardship and high standards of corporate governance have become core issues of business concern over recent years and rightly so," said Riverside Co-CEO Stewart Kohl. "Private equity investors expect good ESG practice of their management firms and we, in turn, expect this of our portfolio companies."
Dörte will retain her leadership role for fundraising and investor relations for Riverside in Europe alongside her enlarged ESG responsibilities and will continue to serve as the primary point person for European investors for the global Riverside firm. She has been promoted to Managing Director, Fundraising & IR.
"I feel both humbled and super charged by the opportunity to take on these new responsibilities for The Riverside Company," said Höppner. "As a firm, we want to be a beacon of responsible ESG practice, and I look forward to working with so many talented colleagues, equally passionate about ESG, to drive this important initiative forward both within our own group and associated companies."
The Riverside Company is a signatory of UN Principles of Responsible Investment and is a supporter of the ESG Data Convergence Project, which was launched last year by leading GPs and LPs to align on a standardized set of ESG metrics and mechanism for comparative reporting.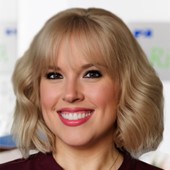 Holly Mueller
Consultant, Global Marketing and Communications
Cleveland
+1 216 535 2236