Riverside Expands ComForCare
CarePatrol Joins Home Care Services

The Riverside Company has added senior living advisory and placement services franchisor CarePatrol to its ComForCare platform.
ComForCare is a franchisor of home care agencies that provide personalized, non-medical care to the aging, individuals living with disabilities or those recovering from an illness or injury in their homes or health care facilities.
CarePatrol franchisees provide senior living advisory and placement services to seniors and their families. CarePatrol's services are provided at no cost to clients and their families. The company is compensated by private-pay, non-skilled senior living communities that receive its referrals. These include assisted living facilities and memory care facilities specializing in Alzheimer's and dementia care.
"CarePatrol adds a new dimension to ComForCare's offerings," said Riverside Managing Partner Loren Schlachet. "Customers rely on ComForCare, and they have come to trust its quality of care. This investment allows us to meet a need while strengthening its commitment to the happiness, health and safety of those they serve."
Riverside Partner Brian Sauer said the combination will benefit everyone involved.
"CarePatrol is a great fit for ComForCare and the people both companies serve," said Sauer. "It expands the companies' collective reach, but also enhances capabilities and provides an excellent platform for continued growth. This addition to the ComForCare platform is the first step in realizing an aggressive growth strategy in this space."
In addition to expanding ComForCare's reach across the continumm of care to address individuals who need senior living placement, CarePatrol delivers strong relationships with health care providers, and a deep understanding of the senior care market, all of which should benefit the organizations moving forward.
"Bringing CarePatrol into the ComForCare platform allows us to begin the journey of elevating how care for older adults is approached in an industry struggling with continuity of care," said ComForCare CEO Steve Greenbaum. "As we grow our footprint in this space, our strides in leading innovation in elder care will come to light."
CarePatrol Founder Chuck Bongiovanni is looking forward to the next chapter for his company.
"Our shared commitment to excellence in home care and senior placement will serve seniors, families and our franchisees well. With the expertise of the professionals at ComForCare and Riverside, I'm confident that CarePatrol will reach new heights in customer service and quality care," said Bongiovanni.
CarePatrol has 150 territories with ample room to expand in the U.S. ComForCare has nearly 200 locations in more than 30 states and three Canadian provinces.
Working with Schlachet and Sauer on the deal for Riverside were Principal Steve Rice, Senior Associate Josh Smith, Operating Partner John Kish and Finance Director Michael Rath. Principal Dan Haynes helped secure financing for the deal. Rice and Smith sourced the deal for Riverside.
Jones Day provided legal counsel on the deal. Saratoga Investment Corp. provided financing, and West Monroe provided IT diligence.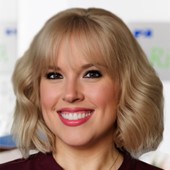 Holly Mueller
Consultant, Global Marketing and Communications
Cleveland
+1 216 535 2236