Riverside Finds Great Chemistry With Add-On
Malaysian Specialty Chemical Distributor Expands

The Riverside Company expects the addition of Erapoly Marketing Sdn Bhd (EM) to its DCM Asia platform to be a catalyst for sustained growth. The acquisition fortifies DCM Asia's position as a leading value-added specialty chemical distributor in Malaysia. The addition of EM further enlarges DCM Asia's portfolio by deepening its offerings in engineering plastics and thermoplastic elastomers.
"EM has an excellent customer base and offers a wide array of polymers and elastomers that complement DCM Asia's product portfolio," said Riverside Principal Dominik Heer. "Moreover, EM's value-added services like custom compounding and recycling broaden DCM Asia's integrated offering. This investment makes DCM Asia a larger, more efficient and diversified company."
With the investment, DCM Asia broadens its exposure to export-oriented key end markets such as automotive, packaging, electronics and consumer goods. It also provides access to an international customer base.
EM has grown steadily for the past 10 years and is expected to continue driving growth as part of DCM Asia. Riverside continues to explore organic expansion and add-on acquisition opportunities for DCM Asia. The focus will be on adjacent industry verticals, geographic expansion into neighboring ASEAN countries as well as value-added service-line additions.
Working with Heer on the deal for Riverside were Senior Associate Weng Leong Kam and Senior Operating Partner Sander Herden.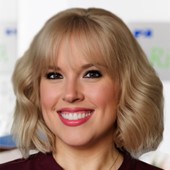 Holly Mueller
Consultant, Global Marketing and Communications
Cleveland
+1 216 535 2236