Riverside Navigates Deal Traffic, Adds To AWP
Investment in Traffic Specialties Bolsters Area Wide Protective

Area Wide Protective (AWP), a portfolio company of The Riverside Company, has acquired Traffic Specialties, Inc. (TSI) of Stone Mountain, Georgia. Similar to AWP, TSI provides temporary traffic management solutions in support of utilities, utility contractors and the roadway construction, repair and maintenance market. Riverside invested in Kent, Ohio-based AWP in June and TSI represents the company's first add-on acquisition under Riverside's ownership.
The addition of TSI enhances AWP's existing presence in Georgia. By leveraging the talented workforce of each organization, complementary facility locations, and a sizable fleet of vehicles, AWP is well positioned to grow with existing and new customers.
"TSI is an excellent complement to AWP," said Riverside Partner Chris Jones. "Both companies are proven leaders in the market, and customers will benefit from the resources and scale that will result from combining the two entities."
AWP has more than 50 locations in 17 states throughout the Midwest, East, and Southeast. The addition of TSI fits well with the Company's strategy of enhancing capabilities in existing markets while also extending service into new geographies.
"We are very excited about the addition of this company," said John Sypek, President and CEO of AWP. "We decided to acquire TSI for many strategic reasons. Most importantly, TSI, like AWP, is dedicated to safe, reliable service. The company's strong service ethics are well known in the region."
Importantly, current TSI customers will not only continue to receive the same high quality service, but they will also benefit from the increased resources and additional service offerings that AWP provides.
"AWP has seen strong organic growth driven by its unique offering in the industry and its superior service," said Jones. "We're looking forward to continuing to build on its outstanding track record."
Working with Jones on the transaction for Riverside were Vice President Ryan Richards, Associate Jordan Suydam and Operating Partner Tom Anderson.
Kirkland & Ellis advised Riverside on the transaction.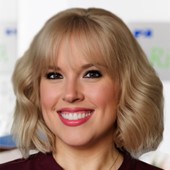 Holly Mueller
Consultant, Global Marketing and Communications
Cleveland
+1 216 535 2236