Riverside Proves Ethics Is Good For Business
Riverside Sells NAVEX Global Following Transformative Growth
The Riverside Company has completed the sale of NAVEX Global (NAVEX) to Vista Equity Partners (Vista). NAVEX is a provider of governance, risk and compliance (GRC) solutions based in Lake Oswego, Oregon.
NAVEX offers a comprehensive suite of ethics and compliance software, content and services to more than 8,000 clients around the world. NAVEX solutions include case management, policy management, online training, awareness programs and third party risk management, as well as advisory services consulting to help organizations manage and remediate key workplace risks.
Riverside began building the investment that became NAVEX Global in 2010 with the acquisition of ELT, a provider of online training. Over the next 18 months, Riverside acquired Global Compliance Services, EthicsPoint, and Policy Technologies, creating a world leader in the GRC industry.
"We had an outstanding investment in ELT, but were confident that a combined company with an expanded and integrated portfolio of capabilities could be something very special for both clients and our investors," said Riverside Managing Partner Loren Schlachet. "We are delighted with the transformative power that came from scaling this company."
The comprehensive NAVEX platform empowers organizations to build winning cultures, to evolve from reactive to predictive decision-making, and to improve bottom-line performance.
"Companies around the world are fundamentally changing the way they think about and invest in ethics and compliance," said Shanti Atkins, founder and executive chairman of NAVEX Global. "Riverside understood the incredible potential to build a marquee company in the space, and dedicated the talent and resources to passionately pursue a shared vision."
Combining the companies created a rapidly expanding platform with scale and capability that drove exponential growth. Today, NAVEX is a global company serving the compliance and ethics needs of most of the Fortune 1000 and Global 500.
"It's been a joy to work with an exceptional management team who partnered with us to execute a focused and decisive strategy," said Riverside Partner Joe Lee. "We are proud of our work successfully integrating each of the four acquisitions into a unified business serving some of the largest companies worldwide."
Working with Schlachet and Lee on the transaction for Riverside were Vice President Steve Rice, Vice President Dan Haynes, Vice President John McKernan, Associate James Zhang and Operating Partner Jeff Goodman. Ian Hessel served as Finance Director for Riverside, and Origination Principal Amy Margolis helped facilitate the exit for the firm.
Deloitte, Deutsche Bank, Jones Day and Piper Jaffray advised Riverside on the transaction.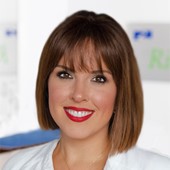 Holly Mueller
Consultant, Global Marketing and Communications
Cleveland
+1 216 535 2236