The Riverside Company Exits Specialized Medical Services, Inc.
Firm Sells Respiratory Equipment Provider

The Riverside Company has sold Milwaukee-based Specialized Medical Services, Inc., (SMS) to Lincare Holdings, Inc., a subsidiary of Germany-based Linde AG. SMS is the nation's leading provider of respiratory equipment, logistics solutions and related medical products for long-term care centers like skilled nursing facilities (SNFs).
Riverside's initial investment was with RCS Management Corporation in 2006, a respiratory equipment, oxygen and related products provider, then completed the acquisition of SMS in 2012, adopting the new name. Combined with other add-on acquisitions such as Future Medical and Premier Medical, SMS established itself as the largest respiratory equipment provider for SNFs in the nation. The footprint covers more than 45 states and 3,200 facilities, including 15 of the 20 largest for-profit SNF chains in the country.
"SMS's strong reputation in the industry reinforced our decision to invest when we did," said Riverside Managing Partner Loren Schlachet. "With its stellar customer service and premium product portfolio, we were able to build SMS into a national leader."
During its hold of SMS, Riverside grew revenue more than seven times and integrated multiple acquisitions to form the only truly national provider in a fragmented industry.
"It was a pleasure working with the executive team to position SMS as a leader in its industry," said Vice President Garrett Monda. "We were able to support an extensive network of customers new and old, allowing them to have one dedicated provider for all their respiratory-related needs across their facilities."
The SMS investment added to Riverside's extensive experience of more than 130 investments in the Healthcare sector.
Working with Schlachet and Monda on the transaction for Riverside were Operating Partner Jon Temple, Finance Director David Kralic and Senior Associate Christopher Shea.
Lincoln International, Jones Day and Deloitte advised Riverside on the transaction.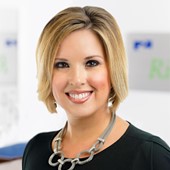 Holly Mueller
Consultant, Global Marketing and Communications
Cleveland
+1 216 535 2236