Job Applicant Data Protection Notice
Our Commitment to Your Privacy and Data Protection:


This Job Applicant Privacy and Data Protection Notice ("Notice") applies to a job applicant's personal data[1] that The Riverside Company and its affiliated advisers and private funds (together "Riverside") collect and process. Riverside is committed to respecting job applicants' data protection and maintaining the confidentiality, integrity, security and resilience of personal data. The term "job applicant" or "you", as used in this Notice, means individuals who apply for or are in the process of being considered for employment with Riverside. Candidates whose application was successful are referred to the Riverside Employee Privacy and Data Protection Notice.
We are providing you this Notice to help you better understand the following:
How Riverside Uses the Personal Data and How Riverside Justifies this Use
Protecting Your Personal Data
Sharing Your Personal Data with Third Parties
How Long Your Personal Data is Retained
Cross-border Data Transfers
What Your Rights are and How to Submit Privacy and Data Protection Inquiries and Complaints
The Responsible Riverside Legal Entity for Compliance
Effective Date
Personal Data Riverside Collects
Riverside may collect various types of personal data about you in connection with your application for employment to and/or your employment at Riverside. This may include the following categories:
Recruitment information (e.g. any information shared in the application process, including information from a cover letter, resume, application form or similar documentation. This may include information such as employment history, education, skills, or any other details typical to the application and interview process).
Contact information (e.g. your personal email addresses, phone number and mobile number, etc.).
Family information (e.g. marital status, information about dependents, beneficiary, spousal information, etc.)
Identification information (e.g. name, national identifier (to the extent allowed by applicable law), driver's license number, date of birth, mother's maiden name, home address).
Career information (e.g., details of skills and experience from the referrals provided, compensation and benefits expected, etc.).
Aptitude and leadership skills related information (e.g., personality and work style assessment, leadership skills, and critical thinking skills).
Health-related information (e.g. medical or health information authorized by the job applicant if and to the extent allowed by applicable law).
Background check information authorized by the job applicant if and to the extent allowed by applicable law (e.g. judicial disputes and criminal records).
Automatically collected information (i.e., information collected via cookies and web beacons including IP address, browser name, operating system details, domain name, date and time of visit and page(s) viewed).
Data collected with regard to the use of e-mail (e.g., date and time of the mailing and/or reception, size of the e-mail, content of the e-mail, etc.).
Your image (e.g. video recordings made during the recruitment process when you have agreed to such recordings, recordings made when Riverside premises are equipped with CCTV surveillance, etc.).
Statistics (e.g. general HR statistics, candidate ranking).
If you chose not to provide certain information (e.g. not provide information about prior employment, not provide information about your spouse), this may impact our ability to process your application and/or impact your use of certain resources.
Riverside does not seek to collect sensitive data about you (e.g. data relating to gender, race or ethnic origin, political opinions, religious beliefs, trade union membership, criminal record, physical or mental health, or sexual orientation) except where required by the laws of the country in which the position you are applying for is located. Where required by law or regulation, we will obtain your explicit consent prior to collecting sensitive data about you. If you voluntarily provide us with such sensitive data, your providing us this data will be construed as your explicit, unambiguous consent to collect and use these data in the manner set forth herein.
Riverside may obtain the personal information about its job applicants directly from the job applicants, as well as from other affiliates and third parties (e.g. recruitment agencies).
How Riverside Uses the Personal Data
Riverside uses your personal data for recruitment- and selection-related purposes, including: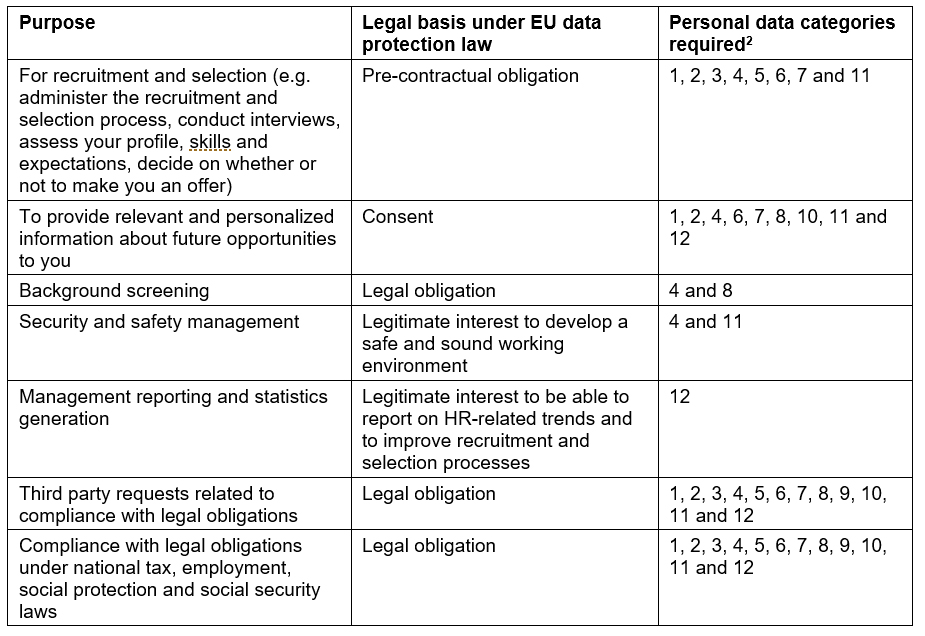 If Riverside intends to further process your personal data for a purpose other than that for which the personal data were collected, Riverside will provide you prior to that further processing with information on that other purpose and with any relevant information.
To the extent appropriate and in accordance with applicable law, Riverside may seek additional data and/or verify your personal data by contacting your references, referrer, and other third parties.
Protecting Your Personal Data
Riverside uses technical, administrative and physical security measures to protect your personal data against accidental or intentional destruction, loss, alteration, unauthorized disclosure or access and against other unlawful forms of collecting and processing. Riverside follows industry standards and practices to help protect the confidentiality and integrity of your personal data it is collecting and processing. When your personal data is shared, Riverside will take a proactive approach so that the personal data is kept private and not misused.
Sharing Your Personal Data with Third Parties
Riverside may disclose your personal data to:
Third parties: Riverside may share job applicant's personal data with third parties in accordance with applicable laws under the following cases:

Riverside's legitimate business purpose: to perform services on Riverside's behalf, where such disclosure is necessary and legitimate consequence of your relationship with Riverside (e.g., providing assessment services).
Purposes authorized by you: when you have requested or authorized such sharing (e.g., providing you with information on interesting opportunities).
Contractors, partners or other third parties: supporting Riverside in the recruitment process, such as third party recruitment agencies, as far as such access to data is required for providing the agreed services.
Special circumstances: under certain special circumstances (g., responding to an emergency that is believed to threaten or harm an individual).
We require any third party that receives this information from Riverside to use it only for the services required and as allowed by applicable law or regulation and have contractually bound any third party to appropriate data protection and data security requirements as required by applicable law or regulation.  We do not permit third parties to share or use this personal data for any other purpose.
Affiliates: Riverside may send your information to Riverside affiliates if it is related to the position for which you are applying. Riverside may also send certain types of personal data (e.g. demographic information) about you to Riverside affiliates for the purposes specified in this Notice. Information transfers will be carried out in compliance with applicable laws.
Courts, law enforcement agencies or other government agencies: Riverside may disclose your personal data to courts, law enforcement or other government agencies in order to comply with legal and regulatory requests, e.g.:

Protect your or Riverside's legal claims and interests
Defend against potential or actual litigation
Abide by applicable law, regulation or contracts
Respond to a court order, administrative process or judicial process, including, but not limited to, a subpoena or a search warrant
Comply with Riverside obligations where it is registered with any governmental agency.
Ownership transferees: Riverside reserves the right to share your personal data in the event it sells, licenses or transfers all or a portion of its business or assets. Should such a sale, lease (licensing) or transfer occur, Riverside will endeavor to direct the transferee to use your personal data in a manner that is consistent with this Notice.
How Long Your Personal Data is Retained
With regard to job applicants, Riverside will maintain the job applicant's personal data only as long as required to complete the application procedure, or as the job applicant has not withdrawn given consent (for example to inform the job applicant about job positions in the future and to facilitate the applications in the future) or otherwise required by law or regulation.
Cross-Border Data Transfers
Riverside transfers your personal data across country borders and in particular from the EU to countries outside the EU in accordance with applicable local laws and regulations. This may imply a transfer to a country where the local laws do not provide the same level of personal data protection as the country of your residence and/or the country you are posting the application from and/or the country where you are employed by Riverside. Riverside has implemented data transfer agreements based on the EU Standard Contractual Clauses to cover such international data transfers. You can receive a copy of these agreements via privacyinquiry@riversidecompany.com.
How to Submit Privacy and Data Protection Inquiries and Complaints
Riverside will seek to obtain your consent as indicated above or where required by applicable law. Riverside respects your decisions about the collection and use of your personal data. Where the collecting and processing of your personal data solely relies on your consent, you have the ability to withdraw your consent for Riverside to collect and process your personal data at any time by contacting Riverside using the contact information below subject to applicable legal obligations.
You may also use the contact information below to request access to and/or amendment, restriction or deletion of the personal data that Riverside has about you and/or submit a general privacy and data protection related inquiry or complaint in accordance with applicable laws and regulations. You have the right to object to your personal data being processed and you have a right to data portability. You also have the right to lodge a complaint to the local data protection supervisory authority.
Riverside will respond to such requests in accordance with applicable laws.
The Responsible Riverside Legal Entity for Compliance
The responsible legal entity for data protection compliance purposes is Riverside Partners LLC.


Mailing Address:        
Riverside Partners LLC d.b.a. The Riverside Company
Attention Data Protection Office
45 Rockefeller Center,
630 Fifth Avenue, Suite 400,
New York, NY 10111
United States


Email Address:           
 privacyinquiry@riversidecompany.com
Phone Number:          
+1 (216) 706-1030 or +322 626 21 21
Effective Date
This Privacy and Data Protection Notice is effective from November 2020
[1] Personal data means any information relating to an identified or identifiable natural person ("data subject"); an identifiable natural person is one who can be identified, directly or indirectly, in particular by reference to an identifier such as a name, an identification number, location data, an online identifier or to one or more factors specific to the physical, physiological, genetic, mental, economic, cultural or social identity of that natural person.
[2] Please refer to the numbered categories above.