Riverside Flavor Advisory Board Discusses the Future of  Food Waste Solutions
In this first of a series of articles dedicated to current trends in the flavor and specialty ingredient industry, Riverside Flavor Advisory board members Brendan Naulty and Chris Thoen tackle the importance of biotechnological developments and the reduction and upcycling of food waste streams to create more sustainable food supplies for the future. Riverside is closely collaborating with its Flavor & Specialty Ingredient Advisory Board members (including Brendan and Chris) to help identify long-term trends, build a unique knowledge base and target investment opportunities to partner with company owners and founders.
Keeping it Natural & Sustainable
A cold glass of milk or a juicy burger have long been staples of American diets, but 2020 will see a proliferation of new spins on these classic foods.  Plant-based milks and meats are becoming more and more popular – and are helping the food waste chain.
The Intergovernmental Panel on Climate Change says that agriculture, forestry and other land uses are responsible for nearly one-quarter of net, human-caused global greenhouse gas emissions.
A 2016 systematic review of available research further suggests that "a dietary pattern higher in plant-based foods (vegetables, fruits, legumes, seeds, nuts, whole grains) and lower in animal-based foods (especially red meat), is both healthier and associated with a lesser impact on the environment."   Because of this, there will be greater adoption of plant-based diets. And more than ever, there is a need for flavors that work in plant-based meat alternatives.
About the Contributors
Brendan Naulty
Current President Sweeteners & Natural Ingredients at Manus Bio. Former Senior Vice President at Ajinomoto North America, Inc. and Director Food Ingredients at Mitsui & Co., Ltd.
Chris Thoen
Former Chief Technology Innovation Officer at Givaudan, Procter & Gamble (Managing Director of Global Open Innovation)
Nearly half of Americans believe a plant alternative to animal meat is healthier and better for the environment
Nutrition Facts Labels Influence Perception
The perceived healthfulness of the plant alternative decreased slightly after the ingredients lists were included with the Nutrition Facts. Nearly one in four said that the Nutrition Facts label influenced their perception of healthfulness more than the ingredient list, while fewer said that the ingredients list influenced their perception more than Nutrition Facts.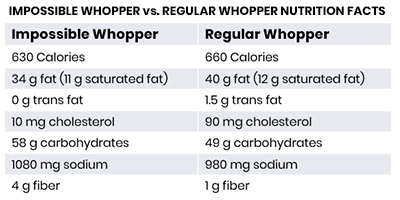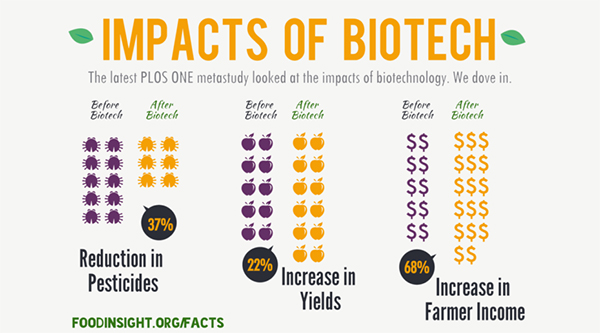 In addition to the above, breakthroughs in biotechnology are pulling ever more capital into the biotech market to support game-changing developments in the agriculture, food and beverage supply chain (biotech market at $148B in 2018).
Why Does This Matter
Novel biotechnological methods can help to reduce the quantity and number of unhealthy ingredients in food as well as remove allergenic substances. Biotechnological processes, such as enzyme applications, contribute significantly to saving resources (energy, water, hazardous processing aids, etc.), optimize harvest yields and produce healthy and better foods.
The creation of new micro-organisms through gene editing can produce - through fermentation - substitutes for rare natural raw materials and thereby solve complex supply chain challenges such as material shortages or decaying quality due to adverse climate conditions (like genetically modified yeast producing rose oil in fragrance industry, vanillin for flavors, novel rebaudiosides as high intensity natural sweetener).
Examples of Possible Implications
The use of enzymes and micro-organisms in food processing may yield increased efficiency and reduced environmental and greenhouse gas impact. The use of enzymes results in cleaner processes and savings of energy and chemicals.
New genetically engineered enzymes enhance processing properties of grains in a way that allows for lower cost, commoditized equipment in grain processing – where incumbent market leaders will likely lose market share to new low-cost entrants.
Biotechnology has the potential to enhance the nutritional, functional and sensory attributes of food. Food biotechnology, such as proteomics and genomics technology, can improve the food safety by offering methods to identify viruses, microbial food contaminants and their toxins.
Given the scarcity of resources and rising commody costs, new ways to re-use various products and side streams are required  with companies finding ways to recycle food side streams (e.g. brans, spent brewer grains, ..) into alternative, upcycled and higher value products.
Where the Flavor & Specialty Ingredient Industry Can Help
Identify emerging flavor technologies that deliver the natural taste of meats that are not found in current offerings. For example, liver flavor is one note that is currently lacking in the industry.


Implement technologies that could further reduce sodium levels without sacrificing the unique taste profile of products. These could be products that enhance salt taste.


Develop flavor systems that enhance the taste profile and mouth-feel of plant-based proteins to more closely mimic that of traditional animal protein products. Examples such as hickory smoked taste profile and 'charred' mouth-feel for plant-based burgers.
   
Rethink the full food value chain from farm to fork, and consider recycling or upcycling of food waste, in addition to shifting to more energy efficient processes with renewable energy and re-usable materials. This will be crucial to allow to feed 10 billion people in a sustainable manner in 2050.
We will see bigger and more frequent dynamic changes in the food and beverage supply chain. There are potential complex 'ripple effects' to consider due to varying regulatory and safety standards across countries.
Some of these changes will impact the lead times for delivery of products throughout the global food supply chain, which may result in potential disruptions and shortages.

A key long-term question to address is if the impact of higher costs for suppliers can be pushed down to end customers. In addition, what is the magnitude of price inceases the end consumer is willing to absorb? Will this ultimately endanger the availability of essential food and nutrition needs for the population across geographical and sociodemographic classes?

Disruptive technological innovations across the full food value chain will be crucial.

For more information about Riverside's Flavor & Specialty Ingredient Advisory Board, contact:
Umbraco.Web.Mvc.ModelBindingException: Cannot bind source content type Umbraco.Web.PublishedModels.GridPage to model type Umbraco.Web.PublishedModels.Person.
   at Umbraco.Web.Mvc.ContentModelBinder.ThrowModelBindingException(Boolean sourceContent, Boolean modelContent, Type sourceType, Type modelType) in D:\a\1\s\src\Umbraco.Web\Mvc\ContentModelBinder.cs:line 159
   at Umbraco.Web.Mvc.ContentModelBinder.BindModel(Object source, Type modelType) in D:\a\1\s\src\Umbraco.Web\Mvc\ContentModelBinder.cs:line 94
   at Umbraco.Web.Mvc.UmbracoViewPage`1.SetViewData(ViewDataDictionary viewData) in D:\a\1\s\src\Umbraco.Web\Mvc\UmbracoViewPageOfTModel.cs:line 152
   at System.Web.Mvc.RazorView.RenderView(ViewContext viewContext, TextWriter writer, Object instance)
   at System.Web.Mvc.BuildManagerCompiledView.Render(ViewContext viewContext, TextWriter writer)
   at Umbraco.Web.Mvc.ProfilingView.Render(ViewContext viewContext, TextWriter writer) in D:\a\1\s\src\Umbraco.Web\Mvc\ProfilingView.cs:line 25
   at System.Web.Mvc.HtmlHelper.RenderPartialInternal(String partialViewName, ViewDataDictionary viewData, Object model, TextWriter writer, ViewEngineCollection viewEngineCollection)
   at System.Web.Mvc.Html.PartialExtensions.Partial(HtmlHelper htmlHelper, String partialViewName, Object model, ViewDataDictionary viewData)
   at System.Web.Mvc.Html.PartialExtensions.Partial(HtmlHelper htmlHelper, String partialViewName, Object model)
   at ASP._Page_Views_MacroPartials_TRC_PersonBlock_cshtml.Execute() in C:\home\site\wwwroot\Views\MacroPartials\TRC\PersonBlock.cshtml:line 11
   at System.Web.WebPages.WebPageBase.ExecutePageHierarchy()
   at System.Web.Mvc.WebViewPage.ExecutePageHierarchy()
   at System.Web.WebPages.WebPageBase.ExecutePageHierarchy(WebPageContext pageContext, TextWriter writer, WebPageRenderingBase startPage)
   at System.Web.Mvc.RazorView.RenderView(ViewContext viewContext, TextWriter writer, Object instance)
   at System.Web.Mvc.BuildManagerCompiledView.Render(ViewContext viewContext, TextWriter writer)
   at Umbraco.Web.Mvc.ProfilingView.Render(ViewContext viewContext, TextWriter writer) in D:\a\1\s\src\Umbraco.Web\Mvc\ProfilingView.cs:line 25
   at Umbraco.Web.Mvc.ControllerExtensions.RenderViewResultAsString(ControllerBase controller, ViewResultBase viewResult) in D:\a\1\s\src\Umbraco.Web\Mvc\ControllerExtensions.cs:line 74
   at Umbraco.Web.Macros.PartialViewMacroEngine.Execute(MacroModel macro, IPublishedContent content) in D:\a\1\s\src\Umbraco.Web\Macros\PartialViewMacroEngine.cs:line 98
   at Umbraco.Web.Macros.MacroRenderer.<>c__DisplayClass17_0.<ExecuteMacroOfType>b__0() in D:\a\1\s\src\Umbraco.Web\Macros\MacroRenderer.cs:line 342
   at Umbraco.Web.Macros.MacroRenderer.ExecuteProfileMacroWithErrorWrapper(MacroModel macro, String msgIn, Func`1 getMacroContent, Func`1 msgErr) in D:\a\1\s\src\Umbraco.Web\Macros\MacroRenderer.cs:line 313
   at Umbraco.Web.Macros.MacroRenderer.ExecuteMacroWithErrorWrapper(MacroModel macro, String msgIn, String msgOut, Func`1 getMacroContent, Func`1 msgErr) in D:\a\1\s\src\Umbraco.Web\Macros\MacroRenderer.cs:line 272
   at Umbraco.Web.Macros.MacroRenderer.ExecuteMacroOfType(MacroModel model, IPublishedContent content) in D:\a\1\s\src\Umbraco.Web\Macros\MacroRenderer.cs:line 339
   at Umbraco.Web.Macros.MacroRenderer.Render(MacroModel macro, IPublishedContent content, IDictionary pageElements) in D:\a\1\s\src\Umbraco.Web\Macros\MacroRenderer.cs:line 245
   at Umbraco.Web.Macros.MacroRenderer.Render(String macroAlias, IPublishedContent content, IDictionary`2 macroParams) in D:\a\1\s\src\Umbraco.Web\Macros\MacroRenderer.cs:line 215
   at Umbraco.Web.UmbracoComponentRenderer.RenderMacro(IPublishedContent content, String alias, IDictionary`2 parameters) in D:\a\1\s\src\Umbraco.Web\UmbracoComponentRenderer.cs:line 131
   at Umbraco.Web.UmbracoComponentRenderer.RenderMacro(Int32 contentId, String alias, IDictionary`2 parameters) in D:\a\1\s\src\Umbraco.Web\UmbracoComponentRenderer.cs:line 102
   at Umbraco.Web.UmbracoHelper.RenderMacro(String alias, IDictionary`2 parameters) in D:\a\1\s\src\Umbraco.Web\UmbracoHelper.cs:line 178
   at ASP._Page_Views_Partials_grid_editors_Macro_cshtml.Execute() in C:\home\site\wwwroot\Views\Partials\grid\editors\Macro.cshtml:line 15
   at System.Web.WebPages.WebPageBase.ExecutePageHierarchy()
   at System.Web.Mvc.WebViewPage.ExecutePageHierarchy()
   at System.Web.WebPages.WebPageBase.ExecutePageHierarchy(WebPageContext pageContext, TextWriter writer, WebPageRenderingBase startPage)
   at System.Web.Mvc.RazorView.RenderView(ViewContext viewContext, TextWriter writer, Object instance)
   at System.Web.Mvc.BuildManagerCompiledView.Render(ViewContext viewContext, TextWriter writer)
   at Umbraco.Web.Mvc.ProfilingView.Render(ViewContext viewContext, TextWriter writer) in D:\a\1\s\src\Umbraco.Web\Mvc\ProfilingView.cs:line 25
   at System.Web.Mvc.HtmlHelper.RenderPartialInternal(String partialViewName, ViewDataDictionary viewData, Object model, TextWriter writer, ViewEngineCollection viewEngineCollection)
   at System.Web.Mvc.Html.PartialExtensions.Partial(HtmlHelper htmlHelper, String partialViewName, Object model, ViewDataDictionary viewData)
   at System.Web.Mvc.Html.PartialExtensions.Partial(HtmlHelper htmlHelper, String partialViewName, Object model)
   at ASP._Page_Views_Partials_grid_editors_Base_cshtml.Execute() in C:\home\site\wwwroot\Views\Partials\grid\editors\Base.cshtml:line 20